Gary Soto's The Elements of San Joaquin (1977)
Edited by Shara Lessley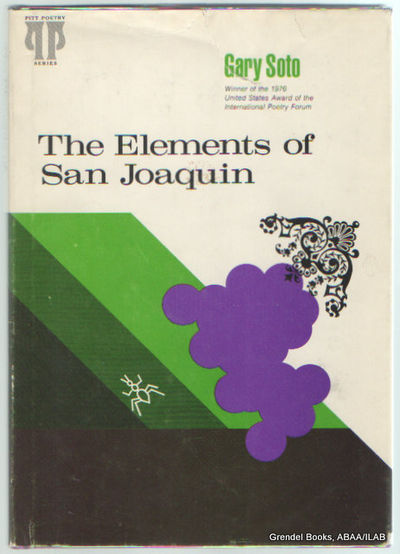 Seductive as it is—with promises of "beds of Roses / a thousand fragrant posies, / […] A gown made of the finest wool / Which from our pretty Lamb we pull"—part of me resists, has always resisted, Christopher Marlowe's sixteenth-century charge to "come live with me and be my love." This aversion, however, is less about the hypnotic ventriloquizing of Marlowe's passionate shepherd or his spirited assurances of those pleasures yielded by "valleys, groves, hills, and fields" than poetic convention itself; that is, the pastoral's idealization of rural life and labor, which has always seemed a far cry from the wrought sounds of soil preparation, piping, aeration, planting, irrigation, clipping, spraying, weeding, and picking that pervaded my childhood and adolescence in Central California.
Saddled between Bakersfield and Fresno, I grew up on a scantly populated, two-lane road several miles from town in a county where agriculture remains the economic lifeblood: milk and cream, pistachios, raisins, cattle and calves, strawberries, citrus, lettuce, and—when I was younger—cotton, and walnuts. Our house, which sat on a modest plot, faced a wide expanse of land whose wealthy owner rotated crops. Some seasons we'd watch fifty acres of his corn fatten on their stalks. Other years brought alfalfa, sweet potatoes, hundreds of sheep whose eerie bleating I'd hear winter mornings crying through the fog. When the weather was more forgiving, I'd teeter along the tops of our three-railed fence, arms stretched wide for balance, then leap five feet into the pasture across from which day laborers dragged crates and hoes though the adjacent property. In dust and heat, rain and frost, the crews squatted and tugged at the tempered rows, often arriving well before sunup. I knew my mother's earliest memories—before she learned to walk or even talk, before she knew what it meant to earn a few cents for each box or basket filled—resided in similar fields; my grandparents and uncles having spent decades as migrant workers: picking cotton, harvesting grapes, digging ditches, and pruning fruit trees up and down the San Joaquin Valley.
It wasn't until I left Tulare and landed at the University of California, Irvine, that I chanced upon an anthology of contemporary American poetry that included writing by Gary Soto. And while I read poems like "The Widow Perez" and "The Morning They Shot Tony Lopez, Barber and Pusher Who Went Too Far, 1958" with enthusiasm, it was the title of Soto's debut as listed in his author's note—its geographical nod to the region that had so fully shaped my imagination—that sent me racing across campus to the stacks at Langson Library. First published by University of Pittsburgh Press in 1977 (and reissued and expanded by Chronicle Books in 2018), The Elements of San Joaquin personalizes rural and urban poverty, making visible the vital contributions and humanity of individuals too often exploited and taken for granted. Driven by action and image, and drawn from Soto's memories of pickle factories, outlying beet fields, and the rhythms of Fresno's Westside, the collection is one of precise portraiture in which the poet privileges realism in lieu of pastoral fantasy. In his depictions of the dignity and resilience of the working poor—his efforts to render in verse those he describes in the book's introduction as "historically ignored … and subject to demeaning attitudes"—Soto echoes the final defiant lines of "I, Too," in which Langston Hughes sings America's "darker brother" into startling recognition. As the speaker in Soto's "Dirt (Apology to Wallace Stevens)" likewise asserts, "The philosopher says, The soil is man's intelligence. / If so, workers are smarter than any professor, / We with the hoes, the horizon flat where we turn / […] We're smarter than you think."

The collection, too, is smart: organized in three parts, Soto's first and final sections rise up like the mountain ranges that enclose California's Central Valley. The nine poems that open The Elements of San Joaquin narrate Fresno's barbershops, alleyways, Chinatown, and factories of San Fernando Road, establishing an urban thread that's later pulled through as the final section revisits the neighborhood near Braly Street and Van Ness Avenue. The heart of Soto's collection, however, including the ten-part title sequence dedicated to civil rights activist and labor leader Cesar Chavez, immerses readers in the region's sprawling farmland where, as one speaker laments:
After a day in the grape fields near Rolinda
A fine silt, washed by sweat,
Has settled into the lines
On my wrists and palms.
Already I am becoming the valley,
A soil that sprouts nothing
For any of us.
The tonality of these lines is signature Soto: its syntax inconspicuous and direct. It's easy to mistake such musically subtle phrasing as simple. Yet, Soto's sonic textures often lend rhetorical emphasis. Notice, for example, how consonance and internal slant rhyme stitch together fields, silt, wrists, lines, palms, soil, and sprouts with the all-important us. Here, sound synthesizes laborer and land, supporting the speaker's claim that "Already I am becoming the valley." Even more telling is the heavily enjambed "nothing" that rises to meet its buried counterpart, "becoming," in the penultimate line, thereby enacting a double irony as work itself erases the worker whose throat is sprayed with "pale dirt" as he completes the harvest in order to keep strangers fed.

Throughout his collection, Soto's titular "elements" resonate atmospherically (wind, rain, heat, fog, frost, etc.) and chemically ("DDT will be around longer than the workers"). They refer, too, to smaller parts that make up the whole: a daily parade of shattered glass and ants, prayers for "frijoles in the pan," pastures that "sway with fiddleneck, / Tassels of foxtail," a foreman's whistle, longing, tenderness, "broken English, broken Spanish," dragonflies that "ladder the air." Re-reading The Elements of San Joaquin decades after leaving the valley, I'm startled by two facts: first, that the book was completed when Soto was just twenty-three; and second, how clearly the poems render the experience of living in Central California. With record temperatures that tip 116º, the area's dry heat is brutal. Accordingly, Soto's sun is an oversized bonnet, a "knife-bright coin," a "half-wafer of light." It stiffens, starches, rises, blazes, flares, "ruthlessly cuts / The shadow from your already mangy body." Present, too (albeit in other seasons), is the infamous Tule fog which, at its worst, can limit visibility from ten feet to zero. "[T]he fog squatted in the vineyard / Like a stray dog," describes Soto in "Piedra." Elsewhere he writes:
… Not all the sweaters
Hung in closets all summer
Could soak up this mist. The fog:
A mouth nibbling everything to its origin,
Pomegranate trees, stolen bicycles,
The string of lights at a used-car lot,
A Pontiac with scorched valves.
Although Tule fog has the power to make fields and streets "disappear," The Elements of San Joaquin ultimately resists a more sinister erasure; that is, the lack of acknowledgement, disenfranchisement, and withholding of labor protections faced by America's immigrants, undocumented workers, and the poor. With their precision and quiet dignity, Soto's poems press against such dehumanization and invisibility. While some early critics complained that the book wasn't activist enough or communal in its register (Soto's lyric "I" too quiet or conventional, they argued), there's something incredibly moving about the intimacy afforded via the singular perspective, of hearing one voice—its strengths, particularities, vulnerabilities—among Soto's wider chorus. The book allows us to see Michael the security guard, Tony the barber. We meet Juan, Nina, Leonard, Emilio, and Maria. There's Uncle Johnny, a beloved grandmother, some half-brothers and cousins, a widow, and a variety of Fresno locals including "The Molinas, the Morenos, / The Japanese families." As one math-teacher-turned-fieldworker in "Campesino" memorably attests:
… Over the clods,
I sing to myself, or whistle like a parrot.
I practice English—
Waffle, no good tire, nice to meet you.
In the fields,
I stop when the patron on the tractor path says stop.
I pound sand from a boot like an hourglass.
Time pours forever and forever.
Tomorrow I'll start again …
Of all the installments published thus far via West Branch's retrospective poetry series "This Long Winding Line," the following essays by Manuel Muñoz, Nico Amador, Rigoberto González, and Laura Villareal are by far the most personal. Remembers González of his first encounter with Soto's collection, "The Elements of San Joaquin was inhabited by stories and people so familiar to me, it read like a logbook of memories." As a daughter of the valley, I see The Elements of San Joaquin as a stay against isolation and ignorance, a poetry that maps a place where almond orchards are insured for flooding, while the men and women potentially injured while tending them too often go without coverage. Yet, for all of the region's tedium and brutality, Soto's work reminds us that the San Joaquin Valley remains a "place of wonderment—yes, wonderment," whose people are, among other things, complex, hard-working, faithful, imaginative, hopeful, caring, animated, cultured, enduring.
—Shara Lessley, Editor-at-Large
Virginia, March 2023
---
Looking Around, Believing
Manuel Muñoz
I tell the story often about how I first encountered Gary Soto's poetry. My high school English teacher, Dawn Swift, gifted me the book the day after I made a naïve comment about "nothing ever happening in the Valley." I was scribbling little stories to her full of autumn leaves and the low, New England walls you might see in a Peanuts cartoon and she wondered why I wouldn't set my scenes in our little farming town of Dinuba. She asked if I had ever seen snow actually fall—she knew how our families took us up into the Sierra Nevada, just an hour away, to stomp around in the snow after a storm had passed, all of us coming back in soaked blue jeans, but delighted nonetheless. But what was falling snow doing in this street scene, on this front lawn? How about the peach blossoms?
This was about 1988 and Soto's Black Hair, his fourth collection, was only about three years in print. I was sixteen and the title poem, which opens the book, depicts a childhood baseball game that, to my surprise, I could easily imagine at Tortilla Flat, the field on our side of town: "I came here because I was Mexican, a stick / of brown light in love with those / who could do it." The proximity of place in my imagination—what I could access immediately without any effort—was suddenly a tool in my hands. In the foreword to Chronicle Books' reissue of The Elements of San Joaquin, Soto notes how other writers had made so much of the "miniscule portraits of town and city—or field, canal, raisin factory" in their calls to the world. "I read Robert Frost—maple trees and stones for him … I read Willa Cather—wheat fields with the wind sighing through their stalks." And then, thrillingly, his Fresno: "They marveled at their territory and I marveled at mine—a dog poking his snout through the chain link fence was worth casting into lines."
Obviously, I didn't have the understanding at sixteen of what was going on with this embrace of the quotidian. Or to parse "quotidian" even more specifically, an everyday that dared to situate time in a forgotten and neglected place like Fresno and the Valley. Suddenly, words that were all around me had connotation and literary value: seeing "plum" on the page made me realize that seasonal farmwork could be invoked with just a mere four letters. "Swamp cooler" wouldn't ever show up in my Edith Wharton sophomore reading. And neither would "churro," or the forms of address I heard day in and day out: primo, vato, carnal. Each time I encountered those words on Soto's pages, they felt new and almost out of context, as if I had accepted that they didn't belong in the world of letters.
Even now, I encounter particular descriptors of work like mine, set in the same Valley as Soto's: squalor, abjection, menial. Words like that keep assigning priority to conditions, rather than people, almost as if to express surprise that such circumstances would ever make it to the center of a poem or a story. I recall being fascinated by the table of contents of Black Hair (I still have the book), how my mind played out what I thought the poem would be about before I read it: "The Plum's Heart," "Oranges," "Brown Girl, Blonde Okie." Faced with the new possibility that I could make meaning out of what surrounded me, I saw not the impulse to depict my hometown in terms of poverty or despair, but of how the primos and tías could engage with those images and animate our space. It felt okay, suddenly, to describe not a peanut butter sandwich but a flour tortilla with a knife smear of jelly and butter. Soto's narrative poems, which were most accessible to me at the time, were my early triggers to storymaking, with his image specificity leading the way.
Rereading The Elements of San Joaquin, I thought that I would say something about "The Morning They Shot Tony Lopez …" or "Emilio," two poems that show how efficiently Soto is able to conjure figures with such richness that they could easily inhabit a short story. I thought, too, that I might have something to say—as a reader of poetry but not a practitioner—about Soto's title poem, broken down into the smallest lyric fragments I have seen him write, a reconfiguration of the fields and orchards and vineyards as a new site for the pastoral. The title poem, in fact, reminds me of something my father once said about the nature of farmwork: crees que no estás usando la mente, pero siempre estás pensando. You think that you're not using your mind, but you're always thinking. It's that impulse—to show the inner life always on the verge of telling a story—that led me to "Summer." Whatever the word might suggest elsewhere, in the Valley it is a season of harvest, hard work, and heat; in the context of all the other poems in the book, we're primed to make those associations first. A five-stanza poem, its speaker engages with an interlocutor who opens each stanza with a question: "Once again, tell me, what was it like?" They've heard all the stories but perhaps they ask in the hopes of something new. And how could it not be new, given the speaker's penchant for the figurative? "There was a windowsill of flies," the speaker tells. "It meant the moon pulled its own weight." "What about the farmworker?" asks the interlocutor, and we might wonder here if the tale of one farmworker might be different from another, or if the heat and work of the season affected their story in a different way.
This pattern persists over the stanzas, a new question always emerging. What's remarkable to me about this poem is that it provokes one of my own worries: that writing about place lends us only a few opportunities to invoke it before repetition and familiarity dilutes it. In Soto's poem, that isn't so. Each new iteration of summer, farmworker, farms, the Eastside, is an occasion for new knowledge (or, in the last of that list, a chance for the speaker to admit that they don't know, and yet they still manage to tell us something about it). The closing stanza invokes the dreariness of the seasonal cycle and the drudgery of the work involved. What persists are the elements—dust, sun—and our desire to look back at what we have done and been, to ask for the "once again."
An uncle was quite ill and, in my family, the men are taciturn and stoic. In his final months, he took to spending time alone in the yard, looking at the flowers and the plants. En sus pensamientos, my mother had said. In his thoughts. Soto's poetry easily evokes not only the visages of people like my uncle and my primos and my tías, but their private history of hurt and longing. We get not only the conflicts of Tony the barber's private life, but the mother who knew him as the precious son she had raised. Emilio, an older worker, lays dreaming of Mexico, a past he might never recover. I celebrate Gary Soto for letting me see that the privilege of reverie can belong to anyone and can happen anywhere, especially in the fields where the toil is endless and the eye (and the mind) must have something to do in order to keep going. The title to his first book is reverent—that's the word for it—for the power of the Valley. It leaves open the possibility that "elements" isn't a word exclusive to the natural world, devoid of people. The hands might work the fields, but the natural world toils alongside, as Soto's subsequent book titles keep suggesting: The Elements of San Joaquin, The Tale of Sunlight, Where Sparrows Work Hard.
The Elements of San Joaquin was published in 1977 by the University of Pittsburgh Press, when Soto was twenty-five years old. I still find it remarkable that a book so early in an author's development made its way to a such a prestigious press, given the barriers to publication for writers from our community that, I'd argue, exist to this day. For important context, I would recommend a visit to the online archive "A Visual History of Chicano/a/x Literature," maintained by Manuel Martín-Rodríguez at University of California, Merced. There, one can find not only the great variety of output from writers across the community over the years, but also the wonderful variety of presses that supported this work. I can't help but think that Soto, ever the invoker of the specific image, would delight in the very naming of those presses: Pajarito, Relámpago, and Sandía. Calavera and Muchos Charcos. Maize. Mano Izquierda.
---
In Defense of Wonderment
Nico Amador
My grandmother loves to recount the story of her elopement. She was still a teenager when she was married, daughter of a recently widowed immigrant, living in one of the agricultural communities just north of Anaheim, California. He was a migrant farmworker from Aguas Calientes, come north to work in the populous citrus groves. Their romance unfolded in secret after a first encounter at a dance.
The particulars change a bit from telling to telling, the sequence of events prone to rearrangement as her memory ages, but the story maintains its key plot twists and a cast worthy of a telenovela. My grandfather, with his striking blue eyes and solid character. An infatuation she guards from the interfering scrutiny of her older brothers. A conspiring shopkeeper. The campesino who fails to deliver a letter during an extended intermezzo in the courtship of the two lovers. A young sibling who goes missing in the hour that the couple slips away to meet with the priest. The fruitless search for the boy and a wedding night spent in dread. A denouement in which her brother is discovered back at home and her new husband is met with stoic approval.
What always strikes me about her account is how alive she's still able to make its adolescent thrills and revelations, despite the undercurrents of hardship and the countervailing years that might have dulled that amazement. There's a restorative aspect to her delivery—I'm brought closer to who she was at that age and closer to the features of my own childhood that reflect our shared origins.
I'm waiting for this day and for you
[…] to tell me
It's OK to shake off my sins
And begin again, a child
Among many. In that world
If I pressed my face to a dogged window
I wouldn't know what goes on.
A wipe of the sleeve, and it's new again.
I'm not sure we can be so quick to dismiss as mere nostalgia the desire to return to that world for a moment, to speak without the qualifying and interpretive instincts of an adult. I'd like to think it might also be an intuitive form of self-determination, a way of establishing narrative sovereignty over the facts of one's life. The other world is often too driven to marry narrative with idea, to shape the individual lives of Mexican Americans into representations that serve some other purpose—cut-outs labeled "migrant," "laborer," "woman"—flattened, transposable and consequently erasable. The child in each of us offers a different insight into what is or was significant, thinks more expansively about what from our experience is worth preserving.
One of Gary Soto's enduring qualities is his ability to write with that unfiltered attachment and tenderness that tends to wane in us as adults. As a teen reader of his fiction, I remember connecting with the intelligence that he applies to what his characters can observe about themselves and their surroundings, even as they grapple with the uncertainties of youth and worlds beyond their influence.
That same intelligence and warmth comes through in the portrait he creates in The Elements of San Joaquin. Ask the poet what was it like? and you'll hear about the demands of the fieldwork, the punishing dust and wind and the town's road of factories. But you'll also hear about the place's unconventional charms—the man making piñatas behind a chain link fence, the family of waddling possums, the unpicked fig tree, "the fruit wrinkled and flattened / like the elbows of an old woman."
Soto's language is unselfconscious, eloquently grounded in the landscape of his boyhood. Line by line, he recreates its street corners, cotton rows, dusks and horizons down to their smallest details, avoiding any impulse to sanitize the grittier attributes or romanticize the elements of struggle.
In so many of these poems, the quotidian is quickly transmuted into startling moments of interest and beauty.
Dusk and what follows is this
The streetlights wink on
The newspaper flies onto a porch
And a woman stoops over
Her dress raising like an eyelid
To the night
The sparrows move south with their eyes closed
The wind east
Scenes like these aren't made beautiful through the artifice of the poet but rather through his attunement to delight, the images that stirred him enough to write. As the collection builds, those images become a litany against forgetting.
In the title poem, the speaker, a field worker, closer in body and spirit to the land than any of the bosses or consumers who will benefit from his labor, speculates, "One hundred years from now / There should be no reason to believe / I lived." Soto's poems, like my grandmother's storytelling, leave us with a record of what felt meaningful and resonant in a community whose stories have been vulnerable to erasure and reinterpretation. "We won't forget what you failed to see," Soto's voice asserts, a vow that echoes through the careful attention he gives to each description.
However understated, this work is as clear-eyed and political in its vision as it needs to be. Soto's youthful gaze is precisely the thing that allows him to achieve dimension and engage critical thought without contrivance. Wonder can be the basis of action too, he reminds us, a source for our commitments to the people and places who made us.
---
"The Salt Gave Back": In Praise of The Elements of San Joaquin
Rigoberto González
Picture it: the University of California, Riverside, 1991. I had just turned twenty-one over the summer though I had been ordering margaritas from the local Mexican restaurant without getting carded since I was nineteen. It helped that I walked in with a boyfriend much older than me. I was wild, experimenting with drugs and sex. And I was channeling that energy into the poems, most of them dark and violent. My poems were like me: restless and undisciplined. Yet somehow my creative writing teachers saw through the theater of it all and allowed me to let off steam on the page. They knew it, and so did I: eventually my true voice would rise to the surface. But then I got that kick in the shins I desperately needed in order to move things along. That came by way of the creative writing program's visiting writer, Gary Soto.
Soto arrived to much fanfare. He was a celebrated poet with a huge literary reputation. Through some special arrangement with our sister campus, U.C. Berkeley, he flew down each week to teach a poetry class. I couldn't contain my excitement. I was years away from calling myself a Chicano (I still said I was Mexican), but I wanted him to see me, not only as a poet, but as a person who was also the child of farmworkers. How could he not? I had been born in Bakersfield, a town less than two hours away from Fresno, where he had been born. His beloved San Joaquin Valley of Central California was the spitting image of my beloved Coachella Valley of Southern California.
There were two poems in particular in The Elements of San Joaquin that stitched our experiences together. "The Heart of Justice," which referenced the fight against the use of pesticides on the fruits and vegetables our families picked. I found the following lines haunting because I had seen it firsthand as our school bus passed the agricultural farm lands:
And think of the fields smothered in valley haze
And how the farm worker brought in crops
Dusted with that lethal chemical.
And then the poem "Salt," which made my heart ache because I also knew about going hungry. There was something especially cruel about this irony: that our families harvested what would end up on so many tables, except our own. In Soto's poem, the two young men are resourceful and abate their hunger with a chip from a cow's salt lick. The final line: "What we lost that day, the salt gave back." The word lost is as wide and deep as a chasm. But even a small spark of joy, or rest, or grace, will light it up.
The Elements of San Joaquin was inhabited by stories and people so familiar to me, it read like a logbook of memories.
I can't remember what fantasy narrative I had convinced myself was going to take place after I turned in my first poem for critique. Poems were submitted anonymously, and after the class discussion, the author had an opportunity to come forward. But because Soto's responses to poems was direct and sometimes searingly honest, very few people came out of the shadows. After an unenthusiastic class conversation about my poem, he duly declared, "This poem is too Sylvia Plath."
I almost stopped breathing from the mortification. I faded into the wall behind me. With one fell swoop he had called out what my other teachers had been too polite to say: that I was writing terrible imitations of Ariel. Once I overcame my embarrassment and anger, I had to laugh. How was I expecting him to see me when I had disguised my voice with the one belonging to a formidable poet from New England, a place I had never been to, nor was I certain I could locate on a map?
My poem, that Plath-swipe. I disavowed it so long ago I no longer remember what it was about. What I do recall is returning to The Elements of San Joaquin, and to Tomás Rivera's … y no se lo tragó la tierra, and José Antonio Villarreal's Pocho—books that were my first literary mirrors—to remind myself of what I looked like. I still remained faithful to Plath, of course, and she has remained part of my creative DNA. But a valuable lesson in the formation of the poet is learning the difference between having your influences guide you toward surprising places and letting them carry you like dead weight.
Somehow I found my own way. The new poems impressed Soto enough that he asked me to put together a chapbook, which he published in his renowned Chicano Chapbook Series. (By this point I had declared myself a proudly politicized Chicano.) Eventually, that chapbook grew into a full manuscript that won the National Poetry Series. And when So Often the Pitcher Goes to Water until It Breaks was published in 1999, Soto chose me to read with him at the University of Arizona as part of a lecture series that paired a master poet with an apprentice. It seemed fitting.
Rereading The Elements of San Joaquin this many years later, I am still moved by the emotional gravity of the book. Despite the hardships that texture the poems, the words are buttressed by an unshakable love, a sense of respect and appreciation, even for the difficult moments. The stories may sound much fainter and the people may appear much farther away, but they have not gone silent or been forgotten. Perhaps because so many of my own people have passed, I feel a stronger responsibility to remember, to hold on. Or maybe that's not the way it works at all with the bittersweet past, which, despite the passage of time, clings on to us. Soto says it much more elegantly in the poem "Moving Away":
But what troubled us has settled
Like dirt
In the nests of our knuckles
And can't be washed away
---
Lineage: Activism of Memory
Laura Villareal
I know Gary Soto best as the author of Too Many Tamales, one of my favorite childhood books. There weren't many books about Mexican-American children like me when I was young, so it was a rare treasure on my shelf. Even now as I mix masa or knead dough, I remove my rings in case they might get lost in the dough. Of course, Soto is a Chicano legend who writes prolifically across the genres, and The Elements of San Joaquin is but one of his thirteen poetry collections. The book is praised by Ilan Stavans, the general editor of The Norton Anthology of Latino Literature, as "A response to the charged, ideologically defiant voices from the seventies … [It] changed the course of Latino literature, redirecting us toward the mundane and ephemeral."
Before I began reading The Elements of San Joaquin for the first time, I asked my mother to tell me again about her maternal grandparents, as she had when I was younger, perhaps hoping to hear echoes of them in my reading. Their life is something I struggle to imagine but think of often. The idea that I'm reaching toward, perhaps, is that to understand family is to understand the self. Here is what I know. My mother's maternal grandparents, Cruz and Luis Gomez, were immigrants from Morelia, Michoacán, Mexico. They traveled the United States, my great-grandfather arriving first followed by my great-grandmother. They worked as migrant farmworkers at first. My mother recalls her mother saying there was always danger and often scammers who targeted the farmworkers. It was difficult work and the living conditions were hard. She didn't like to talk about it. They traveled to Wisconsin, Michigan, and Washington. My grandmother remembered the kindness of Polish folks in Wisconsin to the farmworkers. Her knees were scarred from picking beets and she said picking cherries would stain your hands, every detail a fragment of recollection. My great-grandparents worked for many years until they saved up enough money to settle down. They opened a business, Gomez Grocery and Meat Market in San Antonio on North St. Mary's Street. What my mother remembers most is the joy of spending time in their store with her grandparents. Their work as migrant farmers provided a stable life for my mother and in turn a stable life for me. The lineage of their labor built towards the future, a life that allows me to remember them through writing as I do now.
Poetry can be a window from which to witness the world and The Elements of San Joaquin is a cinematic view of the farmworkers and the San Joaquin Valley. Soto's spare but vivid descriptions of landscape and people allow us to peer into the work of people who are often made invisible by corporations. The title poem is a mosaic of weather and work, a long poem whose subtitles—"Field," "Wind," "Sun," "Harvest"—orient us toward weather, landscape, and work. To understand the landscape allows us to better understand the challenges and "elements" of field work. "Elements" refers both to the weather and also to the "the simplest principles of a subject of study," as the speaker of Soto's poem studies the landscape in its relationship to work. In its unraveling of minute details, the following passage highlights the way work and landscape impact the body:
After a day in the grape fields near Rolinda
A fine silt, washed by sweat,
Has settled into the lines
On my wrists and palms.
Already I am becoming the valley,
A soil that sprouts nothing
For any of us.
The likening of body to landscape moves toward the subtle but powerful denunciation of the worker-employer relationship—a relationship that is supposed to be mutually beneficial but often is otherwise. In this way many such quiet turns are charged with protest and compassion. In his introduction to the reissued version of The Elements of San Joaquin, Soto writes: "The young poet is now an old poet, and if he was called to write these poems again—especially section two—they would be braver in their political voice." If the political voice is quiet, the activist voice is strong, born of personal and familial experience working in the fields.
Soto's uncluttered lines resonate with a gripping sense of personal investment in the people of the San Joaquin Valley. Some poets are drawn to writing the political through the lens of the personal rather than through the public, big-platform political movement. One is not more "brave" than the other; each is important to furthering the causes of those whose lives and wellbeing are at stake. I find especially compelling the voice that arises in the final three stanzas of the title poem. Soto writes,
And tears the onions raise
Do not begin in your eyes but ours,
In the salt blown
From one blister to another;
They begin in knowing
You will never waken to bear
The hour timed to a heart beat
The wind pressing us closer to the ground.
When the season ends,
And the onions are unplugged from their sleep,
We won't forget what you failed to see,
And nothing will heal
Under the rain's broken fingers.
In the line "We won't forget what you failed to see," we, the general public, are indicted. As I write this the fields in central California are flooded—the result of historic atmospheric rivers sweeping across the drought-ridden land. Fieldworkers, the people on whom we depend for the food in our grocery stores, are losing their incomes. Though Soto's book was published in 1977, the fight for farm workers' rights and protections is ongoing. Organizations like the United Farm Workers and California Rural Legal Assistance began the fight in the 1960s and continue their efforts to champion legislative and regulatory reforms that protect farmworkers today. For magnitude, that's over half a century of pushing for basic protections and dignity for workers we all depend on. It's too long. In this era of social media, the United Farm Workers regularly posts videos of field workers with the hashtag #WeFeedYou to remind us of where our food comes from and whose labor makes it available to us. Soto's book is another avenue by which to witness the injustices farmworkers face. But are we willing to correct what we have "failed to see" and aid them? Soto's poems call us to witness as much as they call us to action.
Soto's poems capture the beautiful in the mundane; their politics are slow burning but their fire illuminates the San Joaquin's landscape and people, and the struggle those people face. The poems are like altars in praise of these people and this place, remembering and preserving people in their most ordinary lives. The era documented in this book is now a reminder that though time has passed many of the same issues remain, a reminder that we must work together to take care of one another.
---
Manuel Muñoz's new collection of short stories, The Consequences, was published by Graywolf Press in 2022. Muñoz has been recognized with a Whiting Writer's Award, three O. Henry Awards and an appearance in Best American Short Stories.
Nico Amador is a poet, community organizer, and educator currently living in Vermont. His poems have appeared in Poetry Unbound, Bettering American Poetry, Poem-a-Day, PANK, Pleiades, Poet Lore, Hypertext Review and elsewhere.
Rigoberto González is the author of To the Boy Who Was Night: Selected Poems and New. He is distinguished professor of English and director of the MFA Program in Creative Writing at Rutgers-Newark.
Laura Villareal is the author of Girl's Guide to Leaving (University of Wisconsin Press, 2022). She has received fellowships from the Stadler Center for Poetry & Literary Arts and National Book Critics Circle.