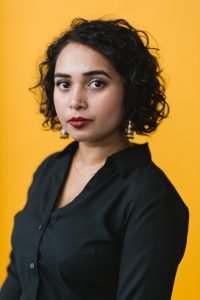 Noah Farberman's work can make me laugh and break my heart at the same time. His ability to find and twist out comedy in unexpected situations continues to impress me. Farberman's work gives readers a surreal mirror inside which we can find our most vulnerable selves.
—S.J. Sindu
---
Tamil diaspora author S.J. Sindu is the author of two novels, Marriage of a Thousand Lies and Blue-Skinned Gods.
Photo by Sara Bodri
---
Noah Farberman
Run Around and Wait
You wear your second choices. The shoes that might work with the pants you might have to wear. A button she might not notice is missing under a jacket she might not notice is stained. Your hair is loose and natural while a bottle of grease waits next to your toothpaste-mouthwash breath-mint cupboard. You put on clean underwear, but not the good stuff, not the kind that you fold nicely while every other pair is tossed crumpled about in an ever-deepening drawer of socks and boxers. The good stuff is not in the drawer right now, you've laid them out carefully on top of the good pants, the clean shirt, the matching socks, and the most expensive jacket. You don't want to wear those during the day, you don't even want them to leave your house until absolutely necessary. No back-pack, no bag, nothing to carry but a wallet and worry. You check the time on your second favourite watch and decide that now seems good to stop pretending to work and start working on lunch. With uneasiness or stress, you stare through food service, cautious of smells that linger in scent. Your stomach bubbles in fear as the plethora of gastro-intolerances rush through your sightlines. Spice is trouble, bread is pain, cheese is curdling, and you just don't like salad. So, you get a box of sushi, eat it dry, soy sauce leaves a stain. A drip on the alternate shirt is pressure on the original. Back at your desk the clock ticks fast. With less than an hour between work and dinner, you type fast. With your supervisor sharking through the cubicles you finish work, fast. If you run home now you'll sweat but make it. If you taxi back you'll save time for the shower but sacrifice the wine. You can take the public transit if you're happy with what you're wearing, but you aren't. You are better than second best. Take the tough road well travelled. You'll be tired and hurried, but you'll feel good with how you look. And you'll save money for wine.
Tonight comes and you make it, clean, greased, and afford-capable. The waiter compliments your shirt, she remembers you from last time, and you smile. And in a month when she stands you up again, she'll remember you a little more.

Loosen your favourite tie, tonight is almost tomorrow and tomorrow is casual Friday.
Obituaries for Heroes
THOMASIN, ANNIE – December 23 1976 – September 19, 2021, Tobermory Ontario – Tobermory's long term lighthouse keeper has been declared deceased. After twenty-six years as the sole lighthouse keeper, twenty-five of which were spent in isolation as a result of the 2001 lightning storm, Annie Thomasin's own light has been extinguished. Annie was a hero to her community, choosing to live indefinitely in the lighthouse after its doors melted off and the surrounding pier was long-sunk. Early into her entrapment, structural engineers warned that any tampering would result in the tower's collapse. To the townsfolk and ship captains of Tobermory, that made Annie a hero. For years, Annie was fed through a small window halfway up her spiral staircase, reading only the small pamphlets that could fit through the window alongside her meals. Even though no one was able to communicate with Annie, since technical engineers warned that the magnetism still affecting the building from the lightning would electrocute Annie if any technology entered the structure, Annie continued the upkeep and maintenance of the lighthouse for the duration of her two-decade stay.
Not all could survive as Annie did. Isolation takes many forms, many tolls. It is my hope that isolation offered Annie something in return; the security of purpose, a light at the top of her tunnel. It is my fear that isolation offered her solace from something we, as free folk, are not afforded, access to our own light.
Annie is predeceased by her family.
Annie is survived by the ship captains and crew she kept alive.
Though her interests and dreams were left unknown, Annie will always be remembered as a hero.
In lieu of lightbulbs, the townsfolk of Tobermory have established a memorial fund to build a sturdier pier around the replacement lighthouse.
A service for Annie will be held alongside the funeral for the crew of the S.S. Family Man, the ship that crashed into the lighthouse alerting townsfolk of Annie's probable passing.
***
STEWART, GLENN III – July 1 1943, Montreal, Quebec – July 14 2021, Wawa, Ontario – Glenn (Mr. Stewart) Stewart the Third, age 78, was found lifeless outside his private estate on the morning of July 15th surrounded by geese.
Born into his wealth, Mr. Stewart never needed to work, but as those around him came to learn, he still loved to help. While some called him an investor, those from his final resting place, Wawa Ontario, describe Glenn III as a hero and animal lover.
Mr. Stewart moved to the small Ontario town after the deaths of his parents Mr. Glenn Stewart the II and Mrs. Glenn Stewart the I four decades earlier. At first a recluse, Mr. Stewart forged many humble and locally beneficial connections with the people of Wawa thanks to his deep interest in geese, which provided him reason to first explore and later find his place in Wawa.
In his last days, Mr. Stewart could always be found supporting a local business; planning the purchase of another one of Wawa's iconic goose statues, hosting one of his famous town banquets at his favourite local eatery Wawa Goose Bar and Grill, or in a squatted position near the iconic Wawa falls feeding Wawa's fluctuating population of geese.
Mr. Stewart is survived by all those in Wawa and the large quantity of geese he imported from other parts of Canada after Wawa'a over-hunting problem.
While his death was sudden and horrific, it should be recognized that Glenn III will be loved and remembered by Wawa forever times. His heroism went as far to the geese as it did the humans as evidenced by the wild bird's refusal to eat a single piece of his exposed body. A sentiment ironically juxtaposed by the quick arrival of long-since spotted family who pecked with vehemence at the free dollars remaining from his estate. It saddened the town to see the beloved man's body surrounded by vultures, where there should have been only geese.
As thanks for saving their local business at a time of crisis; one of the many businesses he saved in his 40-year stay, Gould Funeral Home will be holding his funeral free of charge. In lieu of feathers, Glen III had made it known that if any wished to pay respect to him, they should do so by sponsoring the safe transportation and delivery of geese to within the town limits, so that the rich population of geese may continue to grow and flourish in Wawa.
In memory, the most recent goose statue that Mr. Stewart paid for will be engraved with thanks and placed atop his nest-shaped mausoleum. Mr. Stewart's mausoleum will also act as a micro-sanctuary for starving geese.
***
GULLIVOR, ELLEN – March 9 1943 – April 4 2021, Kinmount Ontario – Kinmount's beloved librarian Ellen Gullivor was discovered on the morning of April 5th, 2021, under indescribable circumstances.
Ellen Gullivor was a hero to the town of Kinmount and all of the Kawartha Lakes.
When she was eighteen, Ellen started work as a clerk at the City of Kawartha Lakes Public Library. Stopping only to earn her Masters in Library Sciences, Ellen never left the employment of that branch. Within a year of her return from graduate school she was named Head Librarian. Ellen's passion was never just in books, but what books could do. And whom they could help.
At first a small project, Ellen hired local members of the community who had fallen on hard times, under the condition that they read about the work they were doing. Soon the library was completely staffed by houseless-persons. With word of her kindness, more persons who lacked a home traveled up to the small sanctuary and soon Ellen found herself unable to offer any more positions of work, so she created more: The Construction Project. Ellen provided all newcomers with books on engineering, construction, and soon, thanks to several other books on foresting, Ellen was able to utilize her self-taught house-less patrons to build a wooden bunker underneath her library. Over the years the bunker grew in size and depth. Now, it can comfortably hold five hundred beds. Behind her library in what used to be public woods, Ellen allowed those who weren't needed for construction to read books on how to till the land, keep animals, and nurture crops. Attributed to her insatiable love for work and literature, Ellen took no days off during her tenure as head librarian. At the end of each full day, Ellen returned to her own estate, a large teak cottage overlooking Crystal Lake.
After sixty-six years under her control, the City of Kawartha Lakes Public Library was transformed into the City of Kawartha Lakes Public Library and Houseless-Person Self-Sustaining Communist Commune.
Ellen Gullivor arrived in Kinmount with her parents, who preceded her in death. She leaves behind the members of her community and the over five-hundred former homeless persons now living in self-made bunkers below her community. She is loved and missed by all. While her death is a mystery a homeless man with a detective novel may try to solve, her life will always be a rare book.
In lieu of hammers and sickles, commune members ask for donations of books to their local library.
In lieu of flowers, townsfolk ask that next time you see a hitch-hiker to give them a ride to somewhere they will always be welcomed.
A ceremony celebrating the life and heroism of Ellen Gullivor will be held in the newly named and built Ellen Gullivor Memorial Branch of the City of Kawartha Lakes Public Library and Houseless-Person Self-Sustaining Communist Commune on Friday the 9th of April at 2pm.
Her personal residence will be auctioned off to the public after the ceremony.
---
Noah "Noah Farberman" Farberman is a Toronto writer and comedian. Noah has been published in Storm Cellar, long con, Pioneertown, and elsewhere. Noah received his Bachelors of Arts in Creative Writing and English at the University of Toronto Scarborough.