A Special Feature Edited by Laura Villareal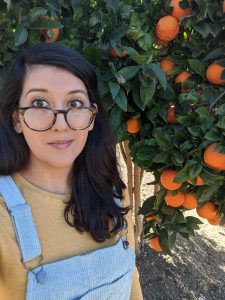 I chose "Document(s)" as a topic during a time of uncertainty— during an era of dis/misinformation, as the 2020 election approached, with ongoing civil unrest and police brutality, in the middle of an ever-evolving pandemic. "We're living in an unprecedented time" became a refrain on the news that made me wonder how we, poets, are documenting this time. Many of the poets in this feature respond to timely topics, but the issues at the heart of their work aren't unprecedented. Systemic racism, anti-blackness, homophobia, religion, gender, sexuality, and environmental concerns are evergreen issues. For these poets, these are lived experiences that are reckoned with outside the page.
What you'll find in this feature is a range of voices and angles that address Document(s) in their form and content. They collage fragments to reshape narratives, they erase towards humanity, and much more. Their creativity and rigor in how they address the confines of the page absolutely dazzles. I want to note that Lucy Zhang's hypertext poem is a West Branch first since it writes and revises as you watch— it is a living document.
While I included poems that document, I also wanted poems engaged with outside documents. Ariana Benson's erasure of Justice Sotomayor's dissent to the execution of Brandon Bernard brings the document back to Bernard's humanity, back to his life as a son. Liam O'Brien's poems collage fragments of Victorian-era domestic literature to reshape the gendered narrative around homemakers and bring light to as he described, "more obscure narratives of homelife, companionship, queer desire, labor, sickness, and grief." And Joshua Garcia's queer deconstruction of the clobber passages, verses commonly used to condemn the LGBTQIA+ community, in his photography and lyric writing. These are just a few examples.
Many of these poems speak to the American experience, but I also wanted to include poems about global issues. Like Aremu Adebisi's response to the #EndSARS protests in Nigeria against police brutality and Mark Maza who combines family history with the EDSA Revolution in the Philippines during 1986.
I would be remiss not to end my note by pointing to a couple poets writing about joy, friendship, family, and hope—the things and people that have us through this time. Adrian Ernesto Cepeda's "Mi Mami Talks to her Plantas" which illustrates both his and his mother's tenderness of attention. Malcolm Friend's "Ode to Paper Transfers" that celebrates youth and friendship in its remembrance of paper transfers.
You'll find much more to admire than what I've described as you read and spend time with these poets. Let their poetry be a document, let it be proof, let it keep record of lived experiences, let it bear witness to their truths.
Laura Villareal, a 2020-21 Stadler Fellow at Bucknell, earned her MFA from Rutgers University-Newark and her writing has appeared in AGNI, Black Warrior Review, Waxwing, and elsewhere. Girl's Guide to Leaving, her debut collection, is set to be published by the University of Wisconsin Press in Spring 2022.
---
AREMU ADEBISI
ṢẸ́RẸ́: An Ode to Women
one-hand, one single hand | is a crowd | can't you see? | shuffling between slaps & waves | one-hand is all you need | to begin a revolution, to burn, to silence | haven't we all seen the concealment | of the fist in an outstretched hand? | at least it's obvious the art of backstabbing | offers you the undersides | of a hand tucked into itself | schemed in its transparent emptiness | the body is meaningless | when you know a single hand is its entire symbol | the leaping, the shivering, the heart-pounding | start from the end of a fingernail | the individual is a multitude | illusioned is the majority
one-hand, one single hand | can raise a man from the dead | shrouded | can signal the end of truth | & the pervasion of bitterness | a woman gives birth to one-hand | & then another & another & another | until she turns the hundred-handed one | unable to make them all clap | at the same time | to heal the world, we feed one-hand | replace one-hand's kalashnikov with a rose | we tend a door with one-hand | that leads to a door that leads to a door | possibility is the amount of stealth | & subtlety of the second | not the panel of radical hours | or the congress of structural days | the second drifts & rambles | comes up to us stealthily | but before the second, what was? | time is unmeasured | & so is reason | the individual is a multitude | illusioned is the majority
one-hand, one single hand | triggers us | conceptualizes our body | defines what is exclusive in ownership | & art of naming | where i come from | one-hand snaps fingers to ward off evil | we say mo tàka òṣì dànù | one-hand snaps fingers to pave way for evil | we say ojú á tún ra rí | one-hand carries dust from the earth | shoves it in the sky to prove truth | to prevent misfortune, we move one-hand | in circle round the occiput of our heads | & snap our fingers | Ọlọ́run máàjẹ́ | Ọlọ́run máàjẹ́ | Ọlọ́run mú àjẹ́ | the left hand is one-hand | the left hand is female | the left is mystery | Ọlọ́run mú àjẹ́ | the left hand neutralizes, starts & ends a revolution | Ọlọ́run mú àjẹ́ | Ọlọ́run mú àjẹ́ | the left-hand is those we left | those we are left | a woman is a multitude | illusioned is the majority.
Aremu Adams Adebisi is a writer and economist. His work of poetry "Force Mechanism" was adapted into Lucent Dreaming's first theatrical performance, in Wales. He has served as a mentor for SprinNG Fellowship and a panelist for the Gloria Anzaldua Prize. Adebisi edits poetry for ARTmosterrific and Newfound, facilitates Africa's largest paid poetry masterclass, and curates the newsletter Poetry Weekly on Substack. He recently was awarded the Langston Hughes Fellowship. He tweets as @aremuadebisi_.
---
ARIANA BENSON
To Our United States
View this poem here.
tree n. [English]
tree n. [English] a woody perennial plant having a single usually elongate main stem generally with few or no branches on its main part
tree n. [English] a diagram or graph that branches usually from a single stem or vertex without forming loops or polygons
family tree n. [English] a visual representation of one's line of ancestry
Ex. What does it mean to know the genus and species of your family tree?
tree v. to drive to or up a tree
Ex. In the days long before I blossomed, an untold number of members in my family tree (n.) were treed (v.).
tree v. to put into a position of extreme disadvantage
Ex. To understand the English language is to know that it is the subjects that tree the objects.
subject, n. [English] the answer to the question of "who"
who, pr. [English] an indicator used in reference to person or persons
object, n. the answer to the question of "what"
Synonyms of object: thing
thing, n. an inanimate entity or commodity that lacks consciousness and agency
Antonyms of thing: English
plant v. to place in the ground for growth
Ex. Who decides what to plant and what to weed?
plant n. spectre of seed
plant n. prelude to tree
seed n. a live sacrifice of oneself for one's children and descendants.
forest n. a chorus of ghosts
forest n. a mass burial site for seeds
Ex. Which forests have you missed for the trees?
miss v. [English] to feel the absence or loss of, to long for
Ex. Is it possible to miss fruit you were not yet alive to see plucked from your family tree?
root n. [English] the part of a plant which attaches it to the ground or to a support, bringing water and nourishment to the rest of the plant
root n. invisible branches that hold a tree up—its mirror image interred in the ground
ground n. the solid surface of the earth
ground n. land
land n. [English] earth over which living beings claim territory
For more on 'living beings,' see 'subject.'
ground (past tense) v. made dust of a solid object
Ex. To ensure objects would not reconfigure themselves post-weeding, subjects ground them into ash
ground adj. having been crushed into fine particles
Ex. The finely ground dust of my family tree was scattered ages ago—it has borne saplings across the world
ground v. to keep something here; give it roots
root n. [English] the basic cause, source or origin of something
Ex. The uprooting of a family tree and the replanting of it in unfit soil is the root of centuries of destruction.
root v. [English] to dig or search around wildly in the ground
Ex. What is the difference between rooting around for new land and digging one's own grave?
root n. where you're from, where your people are from
Ex. Are your roots the kind that hold up trees for thousands of years, or the kind cultivated solely for consumption? Or even the kind yanked whole from the ground?
tree n. in which we are rooted, firmly and immovably
Ariana Benson's work has appeared or is forthcoming in Shenandoah, Lunch Ticket, Southern Humanities Review, Great River Review, and elsewhere. She won the 2021 Graybeal-Gowen Poetry Prize. She serves as the nonfiction editor of Auburn Avenue. Ariana is a 2019 Marshall Scholar and received an MA in Creative Writing from Royal Holloway, University of London.
---
ADRIAN ERNESTO CEPEDA
Mi Mami Talks to her Plantas
With each spray,
her ojos, become
so misty eyed,
in el jardin, her fortress
de soledad, as she waters,
mi Mami whispers
to her potted amigas,
sometimes I imagine her
strolling through la peluquería.
In this salon these plants
are her best and only friends
who do not spread chisme
just bloom and florecer
with cheer in this garden
botánica, only she can hear
their lenguas, they all wait
for her voice, echo rising
like la luz her sonrisa
palabras soft sucendo
seeds, when they feel
her footsteps coming
they love to lean in
to hear her, in between
los pajaritos cantando,
she can almost feel
their conversations grow.

Adrian Ernesto Cepeda is the author of Flashes & Verses… Becoming Attractions from Unsolicited Press, Between the Spine from Picture Show Press and La Belle Ajar & We Are the Ones Possessed from CLASH Books. His poetry has been featured in Harvard Palabritas, Glass Poetry: Poets Resist, Cultural Weekly, Yes, Poetry, Frontier Poetry, The Fem, poeticdiversity, Rigorous, Luna Luna Magazine, The Wild Word, The Revolution Relaunch and Palette Poetry. Adrian is an LatinX Poet who lives with his wife and their adorably spoiled cat Woody Gold in Los Angeles. http://www.adrianernestocepeda.com/
---
JASON B. CRAWFORD
The Art of Staying Alive
True, god did bid me sing but in the same breath did wish me death, and battle: a birthright to sing until emptied.
—Marlin M. Jenkins, Capable Monsters
I claw open the boy and see his true
form. Light dripping out of a god's
body, wet and stale. He looks at me like how I did
when I first saw him. Like grease that bids
with the pot's skin; the boiling over that gambles me
dry. What faggot did not somersault out of its mother singing.
And that's it, we are used to our lovers causing us pain but
still leaving us alive. Grinning from the back drenched in
honey. Sure, he said he loved me, the
crooked way my lip hung from him. The same
way his ex would pull the iron from his breath.
Silly me, to think he cared like I did.
To think he'd stretch out his sternum for me to make wishes
in between each licked bone. Piss cleaned plate that held me
a bare meal waiting to be picked apart. A slow death
I guess, where there are a hundred mouths and
only one fork used to strip me. Lay my face down in the battle-
field. My arm, stretched out arms a
glorious pair of wings. I do not know if hurt is my birthright.
If I only choose men that will offer me to
hungrier men. That shred me to the windpipe to hear me sing.
Call it beautiful until
my lung collapse from being emptied.
Jason B. Crawford (They/He)was born in Washington DC, raised in Lansing, Michigan. Their debut chapbook collection Summertime Fine is out through Variant Lit. Their second chapbook Twerkable Moments is due from Paper Nautilus Press in 2021. Their debut Full Length Year of the Unicorn Kidz will be out in 2022 from Sundress Publications.
---
MALCOLM FRIEND
Ode to Paper Transfers
If you are transferring, ask the driver for a paper transfer at the time you pay. Metro paper transfers are valid on only Metro buses. If you are paying cash and use more than one transit system you must pay a fare each time you board a different bus. —King County Metro's official website, under the "When using cash" section of their "How to Pay" page
Praise all the ways we found to game the system.
How if we stayed out too long and were short
on change, we'd hold expired transfers
by the bottom, rush past the driver
in or out the door. How in high school
one of the South End homies kept a rainbow
of old transfers in his pockets, his hands
the Seattle sky after a summer shower
as he picked through paper selecting
the correct color for the day before boarding,
held his transfer from the top to keep
from getting caught. We didn't know the term
"fare evasion," wouldn't see a fare enforcement officer
until the Light Rail got built. I resisted getting
an ORCA card well into college. Then the 106 started
stopping in the International District, cut services further
into Downtown. Now I tap my card on boarding,
get it scanned by fare officers on the Light Rail.
And I admit: I miss the days I prayed a driver
wouldn't ask me to show my transfer again;
sometimes I still hope that as a bus rolls up,
I'll turn to see someone digging in their pocket
only for their hand to come out a kaleidoscope.
Malcolm Friend is a poet originally from the Rainier Beach neighborhood of Seattle.He is the author of the chapbook mxd kd mixtape (Glass Poetry, 2017) and the full-length collection Our Bruises Kept Singing Purple (Inlandia Books, 2018), selected by Cynthia Arrieu-King as winner of the Hillary Gravendyk Prize. Together with J.R. Mahung he is a member of Black Plantains, an Afrocaribbean poetry collective.
---
JOSHUA GARCIA
Faggot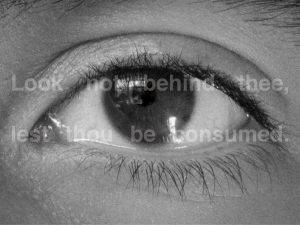 It begins with a look—the sweet rapture you think might get you out of this place.
You tell your therapist you cannot separate sexual attraction from emotional attachment. You fall in love everywhere you go.
Lust and the desire for intimacy seep into the same soil.
While discussing Nathaniel Hawthorne, your English teacher tells you, Don't call them homosexuals. Call them what they are: Sodomites. Each letter of her words dripping with blood.
And there came two angels to Sodom, and Lot pressed upon them greatly; and they turned in unto him, and entered his house.
The men of Sodom compassed the house round: And they called unto Lot, Where are the men which came in to thee this night? Bring them out to us, that we may know them.1
You pray to someday kindle an ache like the one that flickers in your chest at the sight of the young man in the library. That you might shine like the bracelet on his wrist, an ordinary thing made magnificent by the one who wears it.
To know. Translated from the Hebrew yādaʿ:
to perceive
to know by experience
to recognize
to be perceived
to be known
to reveal oneself2
You tremble before the desires of your heart, bright as a yolk suspended in warmth. You think, Someday it might grow wings, until the filament snaps and the earth stands up to strike it dead.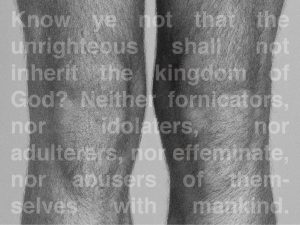 To kneel is to submit. To come low.
Some people are born into bodies that are safe to move above the ground.
Some people are born into bodies that must get low, dig into the dirt, burrow.
One Sunday, you find yourself kneeling at the altar. You don't know how; you don't know why. It is like something holds you there, and you can't get up. Afterward, a man cups his hands over your shoulders. Good work up there, he tells you, pressing into your back.
You turn to find his face.
Years later, you still invoke the voice: Boy, get down; Boy, pray.
You pick at a scrape on your knee until the rose is indecipherable from the consequence of its thorns. In a silence that feels holy, you peel the petals back.
Whenever you hear a man say, Good boy, your heart pants like a dog.
In a dream, the two of you are buried in a grave, your bodies tangled in darkness. On the last day, yours is left in the dirt, rank with more than enough desire to fill the hole his body made.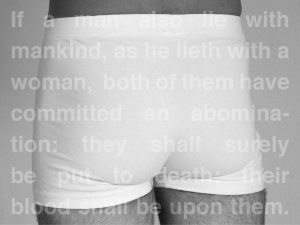 Wasn't it blood that was supposed to save us? Each metallic, bitter drop.
No one thought to teach you how to make it flow, make it pour, that river in your body, the living sacrifice sacrament.
You wake with an erection and a panic attack, your own breath tightening around you like plastic wrap. Your greatest fear as a child: being taken.
Your body is not your own.
There isn't a day that passes when you do not wrestle to undo what's been done. To undo yourself into oblivion.
At night, a moth cuts itself against the light, striking its wings together like two swords. In front of you, it's pitch black. When morning breaks, it's a road.
Your therapist asks you about definitions: What is sex? Together you seek a pill-sized language you can swallow—
Penetration?
Completion?
Just making each other feel good?
—because naming your fears, he seems to think, will make them smaller.
Your body is a river. It is the canyon the river leaves behind. It is the color that paints the canyon.
You are unable to settle on an understanding of your body's capacity for s-x until you give it the distance of another language.
You take psychedelic drugs to see if you still believe in God. In the mirror, crimson blooms around you like a bonnet.
Let my body break, you pray, like a rain, unexpected, gentle over everything.
this crucifixion of the self, you comprehend.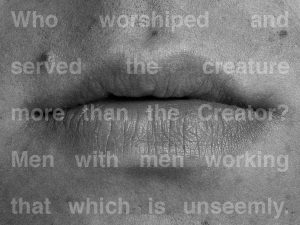 In a dream, your father calls to you in Spanish:
Though you do not speak the language he inherited, you hear it as you might hear the sun breathing across your face in the summer, as you might hear, suddenly and with the ease of a familiar touch, the letters of your name traced out in the freckles on your skin.
Sound fills the darkness as water fills a jar, as blood spills out wherever it is poured—flesh rising to meet the chisel that gives it shape.
And the Word was made flesh, and dwelt among us.
Spoken by man or by God? Who can tell over the shatter of your first cries frothing from the tide of unclean lips.
You have not seen your father in three years, but perhaps you belong, for better, for worse, to those who carve your features with the language they've been given:
Perhaps you belong to whomever is willing to let your name curse cross their tongue.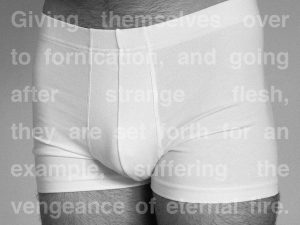 Like Earth, nearly 3,000 kilometers inside you, hell burns at the core.
An engine, a coal oven—your body gnashes, it churns.
Neither let the eunuch say, Behold, I am a dry tree. For thus saith the LORD unto the eunuchs that please me will I give an everlasting name that shall not be cut off.
That shall not be cut off. The sundial. The pillar and the salt in your mouth. The stalk that bends over in the shade, inching toward the sun, the eye of God—flames wagging like a mocking child's tongue.
What then will this child become?
Your doctor's office is adorned with dried flowers, the essence of your sex pressed between glass. In a garden somewhere, shears smeared with pollen lie abandoned for a bouquet on the kitchen table.
You wait until the nurse tells you to come.
He that is emasculated shall not enter into the congregation of the LORD.
You are a kettle. Open the hatch, and let out the scream steam.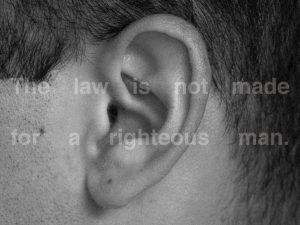 There are words for men like you. Faggot, borrowed from Old French:
a cross to bear
a stake at which to burn4
You are tied to these words by a primordial flame.
What then is born of the tongue's snap against your skin? What aroma stirs from the cold, naked mark it leaves behind—two g's hooked together in a blanket of vowels?
The law is not made for a righteous man.
Then who is there to hear it?
Homosexual, a new word from the ancient for same:
You belong to each other.
The smell of smoke without the fire. A shrub alive with the musk of men.
The law is not made for a righteous man.
Beveled steel takes to stone for this, striking word into flesh. Carving out stem and bowl, spine and crossbar, ascender, descender. Shaping eye, shoulder, and beak. The bowl, the spur, and the tail—a body self-anointed with the fragrance of the knowledge of its meaning.
And before all that, arsenokoitēs, the marriage of Greek for man and bed into a word which is still not fully understood, but which, when spoken,
you recognize something and rise.
1. Instances of scripture are taken or modified from the King James Version of the Holy Bible.
2. " יָדַע – yâdaʻ [yaw-dah']." Messie2vie.fr. https://www.biblestudytools.com/lexicons/hebrew/kjv/yada.html
3. "A Further Consideration of D. W. Thomas's Theories about yādaʿ." Vetus Testamentum, vol. 41, no. 2, 1991. https://www.jstor.org/stable/1518887
4. "Faggot." Oxford English Dictionary.
https://www-oed-com.nuncio.cofc.edu/view/Entry/67623?rskey=F8IAKX&result=1&p=emailAsMBrmd5q8a3k&d=67623
Joshua Garcia's poetry has appeared or is forthcoming in Arts & Letters, Image, The Massachusetts Review, Poet Lore, and elsewhere. He earned his MFA from the College of Charleston and will be a 2021-2022 Stadler Fellow.
---
BRI LITTLE
For every tweet that reads "Black Women will save America"
Once I stopped letting other people tell me who I am
I learned this: to be woman is to be the first to know
and to be Black is to be tired.
I mean marrow weary and all.
If I wake up and decide I want to remain in my head
I will lounge in my bed as the sun roams east to west.
I close my eyes at night
fireworks in my mind
knowing I have still ground my bones into the mud.
I have still worked harder than Jeff Bezos
ever could in his whole thin-lipped life.
I wonder why no one asked me if I wanna run shit.
Why nobody tryna dry-clean my cape?
Nobody asks why I spend all my time giving
white people That Look
while they stand there full of their own shit
expecting me to do the cleaning.
But this is about me.
It never feels right being front and center
when always I've been dying to get into any picture
that's not a crime scene photo.
Black women, you have no choice but to pray.
Don't matter who to
because we're born goddess anyhow.
Turns out my God is the bag lady on the bus
with the two-teeth smile who calls me baby.
My saints anyone who has survived a man.
My church is laughing through the pain
of getting my braids done in Rhonda's kitchen
where we sing to the hymn of Usher
and share communion with Capri Suns.
My breath is so sacred
so many bones to crack
that I live in fear of living in fear.
I pull to side streets shaking to avoid sirens
but I park my car crooked,
hip jut out in protest.
The only way to safely take up space.
I make it home another day,
decide it's a good thing.
I look at who I made in the mirror
and know I'm the only one who could.
Bri Little is a DC-raised/Seattle-based writer and editor. She covers Black arts and culture for the South Seattle Emerald and has published writing in Rose Quartz and Jump! She self-published her debut poetry collection, BELLEVUE, in 2017. Bri writes to heal and to explore the intricacies of the Black queer experience.
---
LUCIA LoTEMPIO
Iconographic
View this poem here.
Lucia LoTempio is the author of Hot with the Bad Things (Alice James Books, 2020), and with Suzannah Russ Spaar, she co-authored the chapbook Undone in Scarlet (Tammy, 2019). Lucia lives and writes in Pittsburgh. For more, visit lucialotempio.com.
---
MARK MAZA
Kundiman for Tondo: 1986
View this poem here.
Mark Maza is a Pilipino-American writer from Orange County, CA who grew up between Tondo, Manila, and Westminster, California. He has received fellowships from Community Literature Initiative and VONA. His work has appeared or forthcoming in Fight Evil with Poetry and FreezeRay Poetry, among other publications and anthologies.
---
LIAM O'BRIEN
Wrung Out of Sweet Trouble
(fragments from The Complete Home, Julia McNair Wright, 222-226)
I followed a fine young man—
lay beside him—the blood drawn over
his face. Twisting to check the flow,
I thought he was faint—something
to strengthen him. His shoe and stocking
bathed away. The young man
in these few moments slept
in our kitchen. The well between
the two—me and the rope.
I caught the weight, come fully
as he came to the surface,
came insensible. I remember a rule:
Be very much afraid—never give up.
To be there with my dear will not cure—
but keeping quiet may save this heart
with hardly a scar. I entered the house.
Steam, flour, table-salt, cold water.
Bound over, softly, to look about
for the cause. To keep the blood
from pressing in, bay-water. Where
did you learn such a remedy?
I invented it from old ones. I have
my own hand to unite the two. I find
the pain most useful at bed-time.
Change tomorrow morning. Wrung
out of sweet trouble.
Found Stories
View this poem here.
Liam October O'Brien grew up on a small island. Some of his recent work can be found in the Denver Quarterly, the Bennington Review, and Nightboat Books' We Want It All: An Anthology of Radical Trans Poetics. He received his MFA from the Iowa Writers' Workshop, and lives in New York.
---
CYNTHIA PARKER-OHENE
Grrrl Black in Kilmarnock
My grandmother sets the table for our morning meal with squash blossoms, smudges of butter, fried porgies and corn, and a tumbler of iced-tea. My grandmother drops vine-wrought lavender into the tumbler and there is a faint smell of maple wafting thru the screen. I quickly wash up in the enamel basin. She weaponizes silence so we quickly chant the prayers we have been taught since we began to walk. I mention something about bless the food we are about to eat and I forget the rest. She looks at me with the evil-eye and I close my eyes in deference to Jesus.
Monocacy River and my grandfather the fisherman who owns the land that they toil comes in from his dawn's work with a satchel of porgies, oyster trout and is preparing to leave to search for blue crabs. I follow him into his day waiting to swing from his thick arms and I holler with joy. My grandfather says that I can toss in the food scraps into the trough where I am filled with glee at the tussling of hogs for the large bits of mixed leftovers. I am visiting from New York City and mesmerized by the old pickup. I sit in the bed of the truck and wave furiously to our kith who are jinning their wares for market.
My grandmother bought me a bow and arrow that keeps me deliriously happy. My mother admonishes her for buying such a dangerous boy toy. I have a good aim. She's afraid that I will kill myself or put out an eye. Kilmarnock is my mother's home. My father is from the landside of percolation ponds near the South Carolina border and my mother says that it is too south even though she is from Virginia. My father and I exchange a wicked glance and my mother sucks her teeth.
Summers in the south are where Black children domiciled in the large cities that our parents went to during the great migration its farmlands are Black spaces for us to be free from the surveillance of black lives. We make pails of ice cream and play red light green light well into the dark. At home we run home at dusk right before the streetlights come on. I look for fireflies for my mason jar and croon at the marquee effect of their shine. I feel safe on the farm unaware that we are neither accepted or welcomed here.
We are shielded from the history of our plight and we swing out from makeshift swings of old tires chasing chicks and roosters. I am allowed to touch what I see. I play the untuned piano in the parlor and yodel my favorite songs. I can still see them in the large white house on a creek filled with crabs and fish in the house where my mother was delivered by the midwife, her auntie teal, my grandmother's older sister. I am the last one.
Cynthia Parker-Ohene is a three-time Pushcart nominee, abolitionist, cultural worker, and therapist. She is an MFA graduate in Creative Writing at Saint Mary's College of California, and the Chester Aaron Scholar for Excellence in Creative Writing. She is a winner of the San Francisco Foundation/Nomadic Press Poetry Prize. Her book Daughters of Harriet is forthcoming in March, 2022.
---
ERIN SLAUGHTER
Try Telling Yourself You Are Not Accountable to That Great Moth Time
View this poem here.
Erin Slaughter is editor/co-founder of The Hunger, and author of The Sorrow Festival (CLASH Books, 2022) and I Will Tell This Story to the Sun Until You Remember That You Are the Sun (New Rivers Press, 2019). Originally from north Texas, she is a PhD candidate at Florida State University, where she serves as Nonfiction Editor for the Southeast Review and co-hosts the Jerome Stern Reading Series. You can find her online at erin-slaughter.com.
---
SNEHA SUBRAMANIAN KANTA
Thesaurus of Beauty with Ghost
When the need for beauty is a sickness—
ghost of ecology, of marine waste, de-
composition, of lakeshore plastic
dance as homonyms. Curvilinear
without photosynthesis or plantation-arc.
Ghost of distance, of green flesh,
attic-kirtle, scintillation of southerly breeze,
of geography, of riverboats, fractured
sunbeam, an exudation of last fog.
Even after a carnage, the rearrangement
of states. Smelt ore to create metal.
Ghost of pearl, of alabaster,
of convalescent land, geothermal heat,
mountain slope, of energy reservoir.
Silk is an inconsolable thread of matter.
A lion roars in a field of dwindle
toward the mercy of a violet horizon.
A squander of piecemeal sound reflections.
Sneha Subramanian Kanta is a writer from the Greater Toronto Area, Canada. Her chapbook Ghost Tracks (2020)is available for purchase from Louisiana Literature Press. She is the recipient of the inaugural Vijay Nambisan Fellowship 2019. She was the Charles Wallace Fellow writer-in-residence 2018-19 at The University of Stirling. Her work has appeared in Muzzle, Palette Poetry, EX/POST Magazine, The Puritan, and elsewhere. She is the founding editor of Parentheses Journal.
---
LISA SUMME
My grandfather dies of covid hours after I put my cat down
My grief Monstro, Pinocchio
in his stomach turning into
an ass. I am the boy made of wood
starting a goddamn fire in hopes
of eventual sneeze. Spit up.
Escapist. My mother's voice
on the phone directionless
as the pastel disposable masks
I hopscotch away from
on my runs. Blue gloves waving
from the tree branches,
the politicians' signs stuck
in anyone's lawns, this collective
sickness, this roaring garbage.
This whale's hunger.
Despite the screens & the nurses,
you died alone like everyone
said you would. My mother's
kindness somehow still feeding me,
there was always food on the table.
Do you know how the movie ends?
Like Pinocchio, people come alive
from goodness & I do not understand
how you lived this long.
What I want to know is how to change
the blue gloves into blue fairies.
You were a real boy once.
What I want to know is who hurt you.
Lisa Summe is the author of Say It Hurts (YesYes Books, 2021). She earned a BA and MA in literature at the University of Cincinnati, and an MFA in poetry from Virginia Tech. Her poems have appeared or are forthcoming in Bat City Review, Cincinnati Review, Muzzle, Salt Hill, Verse Daily, and elsewhere. You can find her running, playing baseball, or eating vegan pastries in Pittsburgh, on Twitter and Instagram @lisasumme, and at lisasumme.com.
---
LUCY ZHANG
Backspace
Lucy Zhang writes, codes and watches anime. Her work has appeared in The Boiler, The Hunger, Fractured Lit and elsewhere, and anthologized in Best Microfiction 2021. She edits for Barren Magazine, Heavy Feather Review and Pithead Chapel. Find her at https://kowaretasekai.wordpress.com/ or on Twitter @Dango_Ramen.