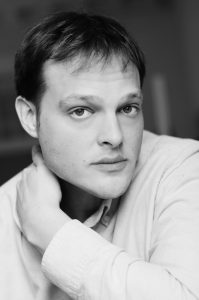 The three stories presented here are all by writers I first encountered in workshop: Matthew Haynes and Callum Angus at the Lambda Literary Retreat, and Heather Jeong in an undergraduate workshop at New York University. It's difficult to imagine more different writers, and yet each wields a strangeness that has stuck with me in the years since I worked with them.
At the beginning of Callum Angus's "The Moonsnail," a woman climbs out of a boat, hanging for a moment balanced above the sea. The woman is Gertrude Stein, or a version of Gertrude Stein, and she's studying fish embryos, obsessed with "the whole before and after—before the be leaps into being." The marvel of the story is its language, which startles us close to experience, the sensuous world of light and sea and shells. This is prose as pure poetry, an homage worthy of its subject.
In Matthew Haynes's "One of Those Times," the strangeness has to do with psychology, with deep impulse and urge. An unhappy couple reaffirms their vows; a trip to Hawaii seems to spark a renewal of passion. The story offers surprise after surprise; it refuses to settle into an expected shape. The final scene has kept its force for me even after many readings. Rare is the story that can allow a character such freedom, such willful assertion.
Heather Jeong's "The Search" is the shortest of these stories, and in some ways it might seem the simplest. At his wife's insistence a man meets with a woman about their missing cat. The woman gives him a charm to hang above their door. A few words are exchanged; something profound, and profoundly disturbing, is communicated. It's a perfect story, I think, and its perfection lies in restraint: nothing is explained; everything hangs in ideal, unspoken relation.
One imagines that one's job in workshop is to analyze, dissect, diagnose. What I love about these stories is how they escape analysis, how they defeat any diagnosis.
These writers move me to profound admiration and envy. It's an honor to introduce them to you.
---
Garth Greenwell is the author of What Belongs to You, which won the British Book Award for Debut of the Year, was longlisted for the National Book Award, and was a finalist for six other awards, including the PEN/Faulkner Award, the James Tait Black Memorial Prize, and the Los Angeles Times Book Award. His short fiction has appeared in The New Yorker, The Paris Review, and A Public Space. A new book of fiction, Cleanness, is forthcoming.